Jon Jones – Where Does He
Stand Among Champions?
Article by Eric Wong
No fighter since Anderson Silva first KO'd Chris
Leben has got me so eagerly anticipating his
next fight as I am with Jon Jones.
It doesn't matter who he faces next, I want to see Jon Jones fight just to see what he's gonna do.
Not only is it fun to watch him pull crazy shit out of his bag of tricks, but Jon Jones has one weapon developed far beyond his years.
Only one question remains…
How much fight is there in this big dawg?
Here's what we know…
Jon Jones has literally steamrolled through opponents.
He's ended his last 6 opponents in the UFC, winning his first 2 UFC contests via UD.
In my mind, he's Top 3 when it comes to creativity and skillset diversity inside the octagon (Who are your top 3? My others are A. Silva and Jose Aldo, with eager anticipation of Anthony Pettis' next bout).
No opponent has come close to hurting Jon Jones…
… let alone defeating him (Hamill doesn't count).
But there's just that one thing we haven't seen…
On one hand, we've got champs whose chin, heart and composure have been tested.
Silva took a 4.5 round beating from Chael Sonnen
and stayed alive long enough to take advantage of
the opportunity and end Sonnen with a triangle…
The Octagon was spinning and the lights were
dimming for Frankie Edgar in his last fight against
Maynard, and he made a miraculous survival to
fight to a hotly contested draw…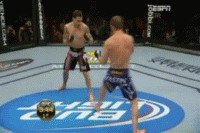 On the other hand, we've got champs who have succumb to defeat when their armor was penetrated…
Who can forget GSP getting caught by Matt Serra…
Or Brock Lesnar's best Mary Lou Retton impression vs. Cain Velasquez…
Not to mention the revolving door to the light heavyweight throne prior to Jon Jones' ascension.
Where, oh where does Jon Jones stand?
Do you think he'll be more like Silva and Edgar when the inevitable time comes where he gets truly tested, or will he crumble and lose some of the shine that his model career has shown thus far?

Do you think Jon Jones has big fight inside ready to come out when he's really tested?