Read this post to find out how you can win a copy of my Python Power program…
OK so it should be no secret that Anderson Silva is one of my favourite MMA fighters of all time…
Like his personality or not, no one has been as dominant or exciting to watch as "The Spider".
And for all the old Pride heads who definitely know what I'm talking about – I'm sure you all wish he'd bring the "strumming the guitar" celebration: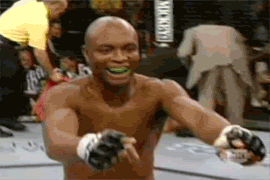 Anyway, here's how to win a copy of my Python Power program…
Jeremy, who you might remember was one of the beta testers of the MMA Ripped program, recently completed the 6 week Python Power program and emailed me with these results:
So that's what you've got to look forward to. 🙂
Here's how to win…
In regards to the upcoming Anderson Silva vs. Yushin Okami fight at UFC RIO, tell me:
Who is going to win?
What round?
How?
Just leave your answer in the Comments section.
The person with the closest answer will win access to the complete Python Power program for dangerous submissions!
I'll announce the winner on Monday. Let the guesses begin: